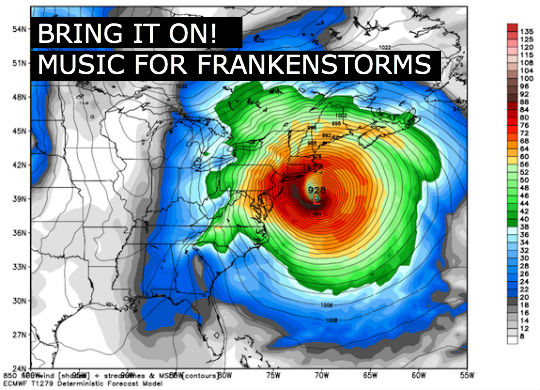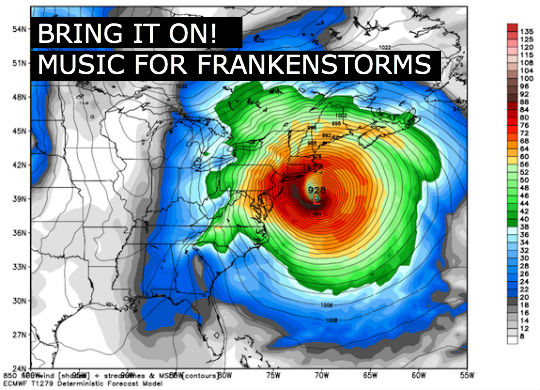 Fuck you #Sandy the #frankenstorm. To hell with everybody who keeps ignoring global warming issues in politics and not trying to reduce your global footprint somehow. We're all guilty of this in many ways. I hope we survive this natural disaster and it does not become some apocalyptic scene. Anyway here's a playlist of a bunch of songs about inclement weather, rain, sleet, floods and snow to help you brave this situation.
Playlist for badweather:
01. Smells Like Rain MP3 by Unsane from Occupational Hazard (1998) When i think of storms and chaos sometimes i think of the walls of guitar gutter these guys create.
02. Raincoat's Room MP3 by Swell Maps from Jane From Occupied Europe (1980) An instrumental jam that sets up mood. Amazing record all around of an indie guitar sound that has not changed much since.
03. Rain Test MP3 by Aviso'Hara from Our Lady of the Highway (2001) A slow jam with best line from a movie. "Give me the strength to die well" Name that movie!?
04. Date With The Rain MP3 by Frankie Gee from Groove Merchant Turns 20 compilation. This is a funky one. We're not just noise blog here. We like the funk the boogie.
05. Seven Seas MP3 by Echo and The Bunnymen from Ocean Rain (1984) This originally came out while I was in freaking just in Highschool but it's such a stand-up album all the way . Great live band too.
06. Thunderstorm MP3 by the original Buzzkill from their first full length CD release I feel like myself again This is dirgy punk. "This is a stormy Monday and everyday after that!" Good mosh-part at the end.
07. Rain MP3 by Bongwater from Double Bummer CD on Shimmy Disc (1988) Is this really a cover written by John Lennon & Paul McCartney? I just know this is one of my favorite NYC bands from the 1980s. Period.
08. Pouring Rain MP3 by Fishbone from Truth & Soul (1988) This is one of their slow soul jams that really shows how this band could groove. Also another amazing live band that I saw about 8x I think in their heyday. Still awesome now. So check them out. Nobody makes music like Angelo and his boys.
09. The Waves MP3 by The Draymin from their new one Should've Known Better (2012) This is particular tune is very alternative grunge. Nice acoustic song with great singing. Check them out.
10. Rain Bird MP3 by Love & Rockets from Earth * Sun * Moon (1987) There is used to be this dark band called Bauhaus. this is an off-shoot of that. The music was always ethereal, dark and inspired. File under #Goth
11. Behold The Hurricane MP3 by The Horrible Crowes from Elsie (2011) Would be almost impossible for this band not to sound like the Gaslight Anthem no matter what Brian Fallon does. Good songs on this record.