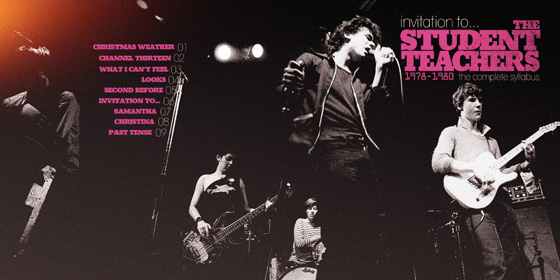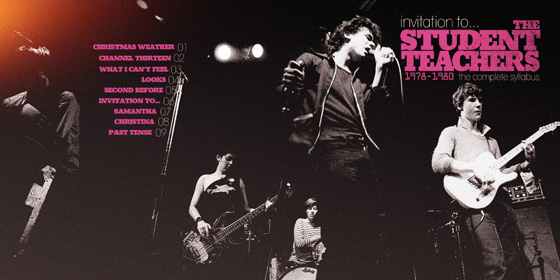 The Student Teachers were a popular NYC band in the late '70s that never had an album but recorded a 45 single, a 4 track EP and 2 tracks for a compilation album. Those tracks along with a bonus cut have all come together for a 9 song CD entitled "An Invitation to…The Student Teachers 1978-80". Their sound bridged the punk and new wave gap blending minimalist no wave and edgy garage elements into one entertaining teenage combo. It's been 33 years since the Student Teachers parted ways but along the way they impacted many people lives including mine. They gave me a deeper music education and many coming of age lessons. Here's where some of that all started.
Growing up I was exposed to so much music diversity on top 40 and progressive rock radio. The radio shaped the personalities of the kids in my Brooklyn neighborhood, Boro Park. There were hippie dead heads, metal kids and disco dancers. I was in between all of these sounds and found myself digging misfit styles that were pegged glam and/or punk rock. I was building my record collection and picked up many cool oddities at Outrageous Records located on the Hasidic Jewish shopping strip, 13th Avenue. Another record collecting buddy of mine, Vinny and I would hang out there and talk music with the clerk, Lori Reese who would inform us of new bootlegs, imports and singles she was bringing in of cooler bands like Roxy Music, Patti Smith, Sparks, Television, Sex Pistols and so many others. We created a bond as my music appetite was developing. It was because of her and reading about shows at CBGBs and Max's Kansas City in Rock Scene that I ended up seeing countless bands at those clubs. It was an exciting time to be growing up in NYC as my teenage years and the music scene was formulating.
In early '78 Lori informed us that she was in a band that was playing in the city and her new punk name was Z.B. Stripe.  She and her friend Laura were fans and roadies for the art punk band The Erasers. They were a cool 4 piece that featured 3 women (and Richie Lure, Walter of the Heartbreakers brother) in the band sounding somewhat like Patti Smith fronting the Voidoids. Those Erasers shows were a big influence on the formation of the Student Teachers.
Funtime/The Erasers (Iggy Pop cover) at CBGB w/ a cameo from the Cramps from the Amos Poe movie 'The Foreigner"
I missed the Teachers first few gigs including their debut date at some of the band members school, Friends Seminary. But I was fortunate enough to attend the band's fourth gig as a guest of Lori's since I drove her to and from the gig on April 23, 1978 when the Teachers opened for Teenage Jesus and the Jerks at CBGBs. The show was my first guest list spot at the club.  Also on the list that night was Brian Eno who was there to see Lydia Lunch's band as Eno would be recording them for the infamous "No New York" no wave collection for Antilles/Island Records.  He did get to see the Student Teachers and seemed to enjoy their faithful cover of Roxy's "Remake-Remodel".  I was beyond ecstatic that Eno was in the house and hounded him for an autograph along with some of the lyrics to his recent single, "Kings Lead Hat."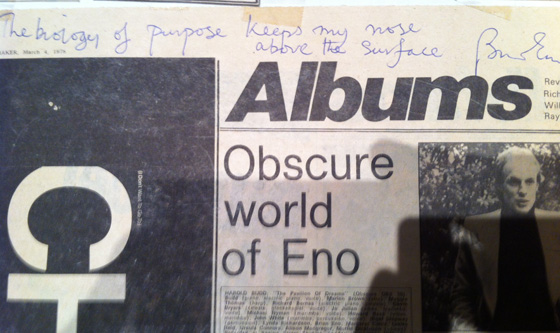 After the show had ended I was standing in front of the club with the band as they attempted to hail taxis to different parts of Manhattan with their gear. I volunteered to drive them to their respective spaces and quickly became the band's official roadie. I was so excited that my '74 Ford Mustang was sideswiped by a taxi while driving around town. I wasn't too concerned over the fender bender since this was such a momentous night for me!
2 of the band members came from the suburban Westchester community of Larchmont, front person David Scharff (known as JD Cruel) and guitarist Philip Shelley. The other 2 members Laura Davis and Bill Arning were Manhattan kids raised in the city. Their fans/friends either came from the Larchmont area or were city kids they hung around with. I found myself surrounded by a whole new set of obsessive music fans that were all so different from my Brooklyn friends. There was one Brooklyn-ite exception, Jody Robelo. She lived nearby me in Windsor Terrace and was also going to shows at CBs often. She and I became a roadie team for the band.  As the band was getting popular quickly Jody moved onto be the band's manager as I became the band's driver and stage manager.
The gigs were coming rather frequently and I found myself setting up the band's equipment (including an ironing board to hold up the keyboards) on various stages of the city's burgeoning club scene. Besides CBs and Max's I worked with the band on the stages of Hurrah, Tier 3, Tracks, The Mudd Club, Philly's Hot Club, Boston's Rat and the momentous gig at the Palladium opening for Iggy Pop and The Cramps on Halloween 1979.
As the band's career was taking off we were approached by Jimmy Destri of Blondie to produce some recordings. Their debut vinyl was the 45 single "Channel 13" b/w "Christmas Weather" for Terry Ork's legendary NY indie label Ork Records in late 1978. Jimmy followed that up in '79 producing 2 tracks each for 5 newer NYC bands resulting in a compilation cleverly entitled 2×5 for Marty Thau's Red Star Records. The songs "What I Cant Feel" and "Looks" were the 2 Teachers cuts on that album.  "Looks" was later covered by Mike Doughty of Soul Coughing on his album "Skittish."  Oddly enough he hadn't heard the song until many years later and was turned onto the song by a friend of his. He discovered the track on the 2×5 album many years after its release picking it up as a used copy in a South Jersey record shop.
The band eventually had a falling out with Jimmy and his girlfriend, our drummer Laura Davis. It resulted into a stressful period for the group with Laura leaving the band. Laura and Jimmy's relationship spawned a couple of co-written tracks that appeared on Blondie albums. Their first collaboration "Slow Motion" appeared on "Eat to the Beat". There's a line in the song "the girl in the back was doing the quake, she got a bellyache she cant concentrate" was a reference to fan at a ST show while doing their rave up song about doing a dance called the quake.
The band was evolving at that time and had become a 6 piece before Laura left the band with the addition of Joe Katz (ex-Mumps/Klaus Nomi bassist) on guitar. Laura was replaced by Hayden Brasseur who played locally with the female band Die Hausfrau. We weren't getting much interest from other labels to release another recording so our manager Jody fronted the money for some studio time. Around that period we were hanging out often with Glen Tilbrook from Squeeze since he expressed interest in producing the band and we were big fans of his band. That unfortunately never materialized. So we went into the studio with our engineer from our previous recordings Jay Burnett. At that time period I was going to the new school for a studio engineering course considering a career in record producing. After being around 2 years of Student Teacher gigs the band gave me a vote of confidence and suggested I produce their final recordings. I fiddled the knobs some at those sessions and listened closely to the 4 songs endlessly. The closing track for me is the song that should have been the band's hit. "Past Tense" has a catchy chorus with rip roaring guitars and infectious keyboards. It's appropriate that the song closes the 9 track album as this music and time period is all way way past tense.
Past Tense/The Student Teachers
The group disbanded in November 1980.  The new me decade had arrived and our teenage years had ended.  The second wave of NYC bands was over and post-punk had just begun.  It was our graduation day.