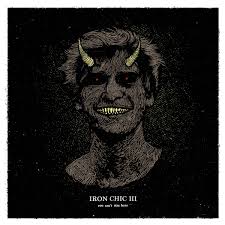 Ladies and Gentlemen, I humbly present to you part 2 of 2….. I have updated the Spotify playlist from Part I to include songs from each of the bands below…..see below it is now COMPLETE. I am now stuffed, sun-burned and enlightened, hence I shall deep dive back into the musical past…but from what I heard with some early musical releases by the likes of Buffalo Tom (GODS), Superchunk, Brian Fallon, Mudhoney, Black Rebel Motorcycle Club and The Royal They, among others, sounding like 2018 is going to be a kick butt musical year! Will find you at the tail end… 17. Iron Chic – You Can't Stay Here- I accidentally stumbled upon this band via Spotify following a Gaslight Anthem playlist with their "hit" "Cutesy Monster" while shopping at a Wegmans in a far away, foreign NJ town while waiting out a birthday party my son was attending. The Menzinger's nuttier first cousin from Long Island, NY, this punk -n- roll band makes a surprising return after some testing personal challenges with this new release.  I can't get enough of the song "You Can't Stay Safe." 18. Matthew Ryan – Hustle Up Starlings – a solid release from this Pennsylvania bred veteran whom I first heard sharing the same stage at a Brian Fallon (The Gaslight Anthem, The Horrible Crowes) acoustic show. While it doesn't kick me as square in the groin like 2014's Boxers, a lot of ground is made up with songs like "(I Just Died) Like an Aviator."  and the beautifully chilling "Maybe, I'll Just Disappear". 19. Noel Gallagher's High Flying Birds – Who Built the Moon?...
GET STARTED BUYING BITCOIN ON COINBASE
If you BUY/SELL $100 worth of crypto currency you'll get $10 by
using this link
.