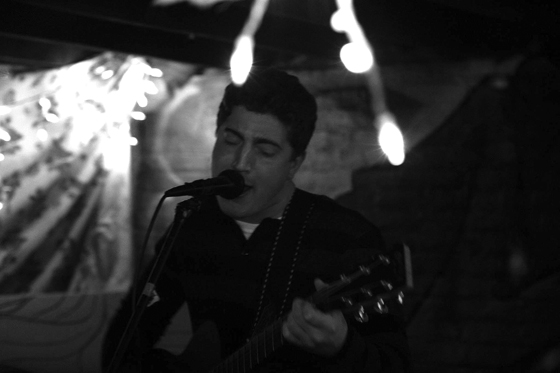 ALBUM REVIEW: Happy Accidents by Delicate Flowers can best be described as gridy pop-folk that goes beyond the beard. There I said it, otherwise I would have categorized it as bedroom rock written by Eric Goldberg but instead he did the right thing Not releasing the demo's from his creepy sad Daddy Mansion in Green Point; he made a proper solo album and recorded in Wayne, New Jersey's Skyler Ross Recording (Happy Irony?)- We don't know.
The canvas as whole is a wash of singer song writer insights. "Break Me Wide Open" is when Happy Accidents is this record paints a very vividly a single line indie rock anthem; from something you would find on a Deep Elm comp back in the 90's with just a chorus to satisfy the hurt you might feel from a regular break-up song. The opener "Dissolution" does what a first track should do and brings you into his relationship struggle cubby-hole setting up your expectations. Song for song the struggle is real, glossy poetic with "Vaseline", a slick middle three chord pop song discussing struggle of hiding those things called feelings(do a search on twitter and whole world will open up on this subject in it's own joke format), where as he might just be editing the deeper hurtful parts when he sings na-na-na-nas to further cover up hurt and blurring of the lens. We don't know but we certainly feel it and that makes this record gracious. Maybe evening sounding a little bit like Allanis's bad break-up with that bad comedian from Full House. I joke only because there are feelings and good lyric writing through out is meant to relate to the listening through all the tools. "It's Easy to Love a Martyr" is when we get to it's most reverb laden Oasis center. All good in many ways and influences through-out I just really get this and it's a totally a panty dropper. Probably the highest compliment and rating we might be able to give out here at RS and definitely a high-watermark for this year coming from the Sniffling Indie Kids label.
LABEL: SNIFFLING INDIE KIDS
RIYL: The Comas, Cymbals Eat Guitars, Dax Riggs, Elliot Smith, Jason Molina
SHARE AND LIKE THIS ALBUM REVIEW WITH YOUR MOM ON FB.