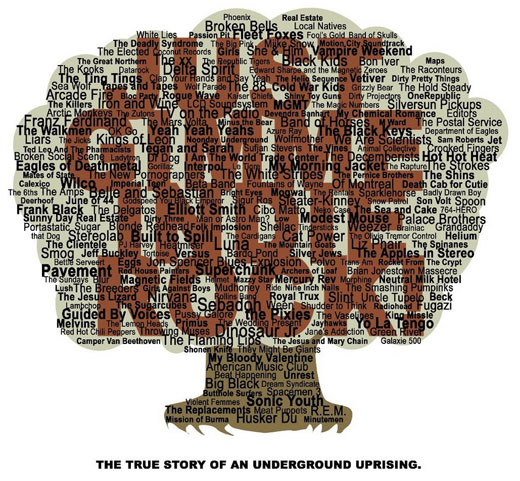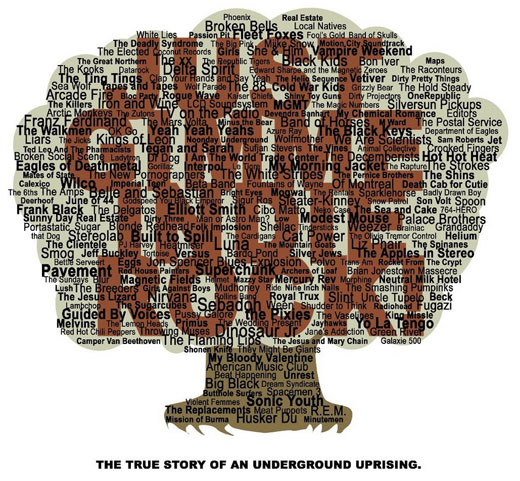 Documentary: It's a lofty goal to try and answer the question "What is Indie Rock?" and capture the whole of the late 80's to early 90's scene before the great music blog plague that is upon us now. Indie rock splintered pretty much as soon as it was born into all sorts of sub-genres.

…We had paper zines back then to rely on and the internets was not accessible to everyone – it was a discreet affair. Sure in there were music scene curators like epitonic who were listening, and many amazing fanzines and then there were dickheads like pitchfork who were not always so praising to deal with but underneath the airwaves was a sense of community. Somewhere in-between the music was exploited and well the rest is loosely documented history. Brad Katz, Myron Kerstein, Linda Cohen and Tricia Halloran want take this challenge and make a Indie Rock documentary. We all have our opinions. I know I tried my best on the east coast writing zines and playing in bands of merry-men. I think there has to be more stories out there right? I Know there is and it's one of things doc people are looking help in. I personally think it would be an interesting story to talk about the transformation and answer the question: What happened to Indie Rock thru the eys of some of the fanzines? Under the shadow of Nirvana were all these bands that did not have a chance in hell of making a living out of their music. Just do a quick search in your iTunes for "indie rock". The genre is used loosely to describe all sorts of shitty bands. I think alternative or "Other" is more appropriate sometimes. That's a sign of something good when you can't quite put a label on something.
The over-celebrated term at some point splintered into and then gentrified into a corporate rock category where Fleet foxes and the kings of Leon reside but that shit ain't indie rock at all. Here's a few things that distinguish the genre with community in mind. (1) DIY self releases e.g. bandcamp in modern terms for you youngsters. (2) You sold records/cds, 7″s and tapes not free downloads (seems absurd no?) (3) It didn't matter what your band sounded like it as long as it did not sound like anything on the mainstream radio. Once you got major airplay you crossed the line into having an actual job. (4) Slacker was a fun thing. No promises. The thing is about the music is that there was no defining sound but lyrics and pieces by a variety bands like some of the ones below who actually knew what a melody was and they used it with their other tricks and was always part of their diverse delivery.
Some of my Indie's Heroes:
Sense Of It MP3 by Polvo from Cor-Crane Secret I saw Polvo a couple times and they were the quirkier version of SY. Almost songs re-interpreted as noise or vice-versa. Hard to explain but the music is backwards but still had hooks. Great music and totally worth a deep dive. [BUY]
Slack Motherfucker MP3 by Superchunk from Tossing Seeds Singles (89-91) This is one of the Anthem's of Indie Rock. [BUY]
Plumb Line MP3 By Archers of Loaf from Icky Mettle More hits on this record than any noisy record of it's kind maybe since mission of Burma or Husker Du. "She's an Indie Rocker and nothings gonna stop here" [BUY]
For Respect MP3 by Don Caballero from S/T Blown away the first time I heard and saw Damon Che play the drums like some drunken bull on a folding chair. So much energy with no singing ever to be had. [BUY]
What Goes On MP3 By Built to Spill (Live) I was a treepeople fan before a BTS. In fact I had no idea they were both Doug's bands. Fact that 4 guitar parts can inhabit one band's sound and without that magic it would still be cool. Always discovering some counter melody in this music. [BUY]
Gimme Indie Rock MP3 by Sebadoh from III One of the funniest things that random people always told me is that I sounded like Lou on bass with the free use of distortion. Happened a few times. Then they'd describe him to me as the dickhead who played with J in Dino. Always came across as an ass to me when I've seen him. Maybe he's perpetually uncomfortable with his talent? Funny impression but there it is. [BUY]
(I Got A) Catholic Block MP3 by Sonic Youth from Sister SST.
Silver Rocket MP3 from Daydream Nation. [BUY] In 86-87 I had all of Sonic Youth's releases to date. I was a indie rock kid. In to everything really. First time I saw SY was a pre-release show of Day Dream nation one hot summer night at CBGB's in 88′. Lunachicks and Skunk(Aka Mighty Joe Young) were playing with them which was fronted by Matt Sweeney of the epic guitar band Chavez. They played the album front-to back and it was like being on drugs. All the guitars had letters on them and they just whipped through this huge wave of sound. I'll never forget it. [Our Band will shine tonight]
Boilermaker MP3 by The Jesus Lizard from Liar – If you don't break your neck listening to this music something is wrong with you. David Yo his singing sounds like somebody is slopping paint over the mic. [Buy] Nirvana tried to champion them just as much as the Melvins. I have the 7″s to prove it but sometimes the drunken ranting is just not fit for radio… allas the problem with Indie Rock. Corporate Alternative Rock wanted something easy to sell and most of these bands just weren't handsome enough.