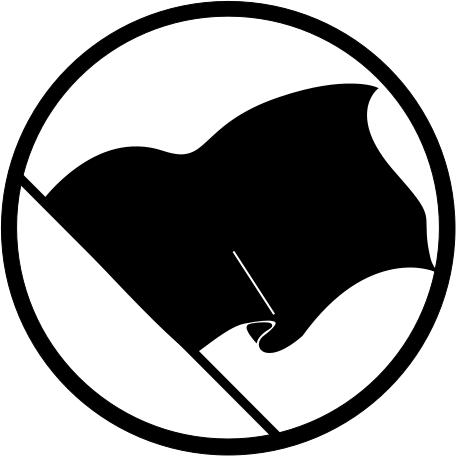 Now this is a protest song featuring all sorts of riot mayhem, police and anonymous action by the band Atari Teenage Riot. ATR wants you to lip sync to this tune and film yourself doing it with a black flag in the background. No not Rollin's and Ginn's Black Flag logo. A solid black one like the illustration above. A sure fire way of getting on a watch list so be sure to wear a mask with the mouth cut-out at least. Make sure to look angry and sinister!
Atari Teenage Riot – Black Flags (feat. Boots Riley) by Alec Empire/ ATR
Destroy 2000 Years Of Culture MP3 by ATR from Berlin, Berlin, Berlin! (1997)
Songs about the color black:
TV Party MP3 by Black Flag – Probably one of greatest songs about complacency my dear sheeple.
Flat Black MP3 by True Widow. Make sure it's not a glossy black but something rebellious and ominous looking.
Thin Black Sail MP3 by British Sea Power from Valhalla Dancehall (2011)
Black Window MP3 by The Nico Blues from their EP
Color Me Black and White MP3 by Night Surgeon from Day For Night (2011)
Black Diamond MP3 by The Replacements from Let it be (1984)- Probably the best kiss cover ever.
Black Satin MP3 by The Raveonettes from Lust Lust Lust (2007) if your classy though and have black sexy sheets. Why not!?
Related Junk:
Protest Songs for Denizens