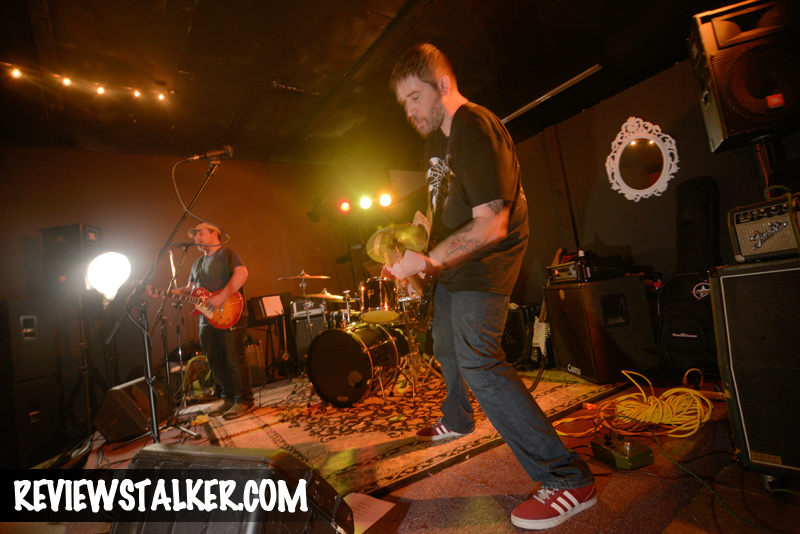 This past weekend Atom Driver celebrated the release of their throttle punk EP Slackjaw on Powerbunny 4×4 Records at Pino's in Highland Park, NJ. On the bill with them was Amy & Alex from Prosolar Mechanics as Bear Claw making their noise duo debut and as well as Couch and Commando cooking up some of their down home music before Atom Driver blasted everybody at Pino's with songs from their release and a bunch of new tunes.
ATOM DRIVER AND FRIENDS COVERING "Johnny Hit and Run Paulene" By X
Towards, the end of their set Amy and Anthony from Bionic Rhoda made their way to the stage to help hammer home an ode to Chuck Berry with a cover by X from their 1980 album Los Angeles. This is a feel good rock song and proof positive that even though the performances was taking place on the other side of Raritan River, rock is very much alive in the Hub City.
SLACKJAW EP REVIEW – Powerbunny 4×4
Now, we highly recommend Atom Driver's debut EP Slackjaw, and not just because we've known Mike from Buzzkill who plays drums, or Mark Segal from Boss Jim Gettys's on Guitar and Vocals for more years than we care to admit but because this band has molded perfect parts big noise and melodic metalcore. All tracks will blow the windows out of those soon to come self-driving cars that millenials will be driving around aimlessly and getting lost when the GPS goes out. These rock songs are powerful maps to what fresh rock stank and what ear bleeding hooks should be like. Justin Ingstrup on bass is also my new favorite bass player now as he really holds-up the wall of sound in this band. Recorded and mastered by Jesse Cannon Found Soundation, Union City, NJ, and mixed by the bands long time friend and engineer Steve Evetts.
ATOM DRIVER: FACEBOOK | TWITTER
PLEASE GIVE THIS ARTICLE SOME BOOKFACE LICKING'BELOW