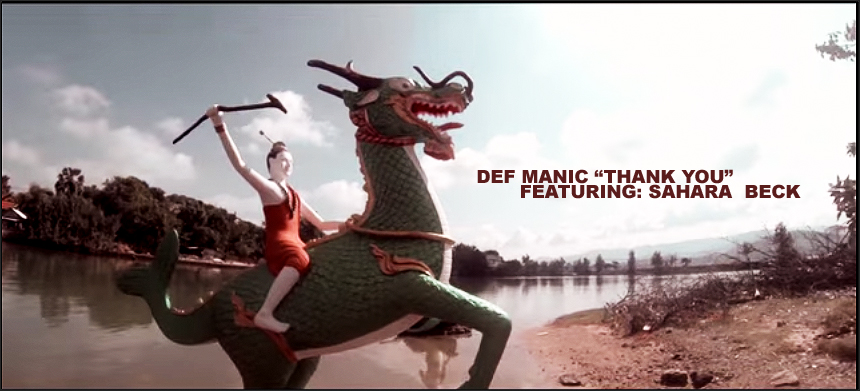 VIDEOS OF THE DAY: First up is the ultimate hip hop point of view vacation video by Def Manic; and I mean this bro in the most complimentary way. Peejay Svoboda the editor has mad story telling skills and moves the picture nicely to the lyrics of "Thank You". Sahara Beck's singing is pretty in-between Def Manic' emo-emmininen-esque raps – he speaks some truths and we dig it and it's the song that gives rise to this film and not the other way around. The scenery is Thailand so every shot just looks amasolutely beautiful by default. It's funny too without being too brass it looks like this kid got something classy going on from up in Serbia, New York (USA). From the album D.R.A.W. (Do Right And Win) avail on iTunes Single – Stalk him Twitter | Facebook | Soundcloud

WATCH: "THANK YOU" BY DEF MANIC FEATURING: SAHARA BECK


BONUS DOWNLOAD: "Bipolar (featuring Kurt Cobain)" MP3 by Def Manic (Prod. Domba)

____________________________________________________


HOUSE AD: VIDEO PRODUCTION IN NEW JERSEY AND NEW YORK CONTACT VIVA! LA HARA FILMS FOR A FREE CONSULT.


____________________________________________________

Ok people, the funniest, funky and most hilariously serious mustache video award goes to Bootleg Rascal and their brand of unique dub-glactic trance with their tune "OH I KNOW". Except one of them has a beard and they rock music playing actual rock implementation instruments but other than that this single is straight-up solid. This video is also filmed incredibly well and the ad libbing is laugh out loud pee-pee hysterical – so win-win. Being that I am part Mexican I can say these spanish looking dudes are the puerto rican power (you know by ween) that hold the lock-n-groove of Sublime with the nice manly bits of fish bonin' danceability. The joke though is that they are actually from hard-on's land of Sydney/Gold Coast of Australia and the singer is named Carlos so whatever. A sense of humor is what is missing in so many video, and music reviews I guess (Scruggs*), that we get these days, our number one complaint is that bands take themselves way too fucking serious and stretch the cool factor like a exploding cigar trick gone limp. Nobody likes that. (Did I use enough dick jokes in this paragraph?) Anyway, directed by Bootleg Rascal & Danielle Payne,
Filmed and edited by Danielle Payne. Twitter | Facebook | Soundcloud

WATCH: "OH I KNOW" BY RASCAL BOOTLEG


Ok do what your mama told ya and like this page on the facebooks below. Thank you!