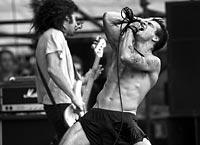 To be honest I'm looking for motivation to get back into the 4 strings thinking. Besides literally trying to find the bandwidth to do it right with Eastern Anchors. I'm not sure why you'd need more inspiration than bands like Girls Against Boys for inspiration in particular when there is awesome tone, tube amps and distortion pedals are at play on every song. GvsB were a innovator in this spectrum of rock, however there are a crap load of other bass players who's bass licks are just as stellar.
Kill the Sexplayer MP3 by Girls Against Boys (1997)
U.S. 80's-90's MP3 from Bend Sinister (1986) The bass playing on any of The Fall's songs is just always so solid and straight forward it becomes innovative on it's own mainly because who-ever is playing is try to stay ahead of the crazy amount of songs on any given album Gang of Four were also master of making the drumming just as important as the melody with bass making it work perfectly showing who is in control of the rythem section.
Not Great Men MP3 by Gang of Four from Entertainment (1979)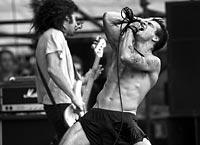 Wartime A experimental project that features bass with sorts of effects and use of the "Phaser" is Wartime which was Rollins and Andrew Weiss making some funk w/ Sim Cain going nuts on the roto toms. Then again any song that Andrew played on I thought was awesome and big like on 1,000 Times Blind MP3 from Rollins Band's Lifetime record (1999). He breaks it down into a swinging bass distorted inferno on Lonely MP3 as another example.



The Art of Self-Defense MP3 by Jesus Lizard – really any freaking song is an example of killer bass playing but the magic really happens when you have the whole band working hard like this and doing it fucking fast. Almost inconsequential what the singer is doing although you better keep your eye on David Yow because he might grab your private parts. As he and David Wm. Sims are going to be touring with Scratch Acid later this fall.
She Said MP3 by Scratch Acid.

Lets consider this part 1 of some of the alternative players. I'm drawing a blank besides like John Paul Jones and particular songs it's obvious I'll need to revisit this short list. Please leave a note in the comments. What's a good drummer gonna do if you can't give the bass player some credit for making it happen.