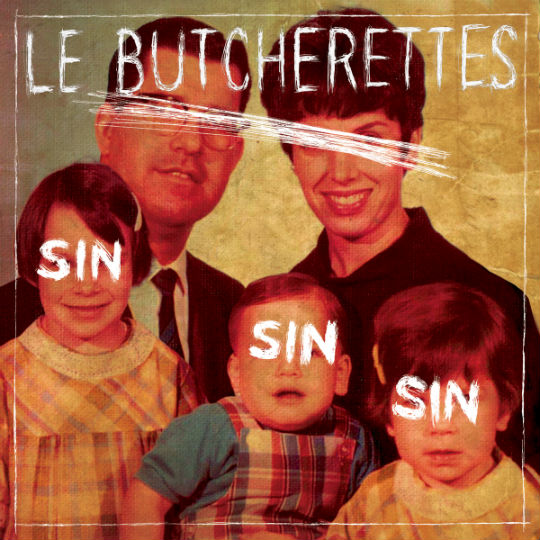 ALBUM REVIEW: Le Butcherettes Sin Sin Sin is some sabroso (delicious) rock via nuevo feminist and the multi talented Teri Gender Bender (Vocals/Keys/Guitar). Originated as a experimental duo with drummer Auryn Jolene in Guadalajara Mexico in 2007. They made it about the show complete with real pig head props (Which I thought you could only get away with that shit in Tijuana). When she slops the blood around her face like she got cut in a Rob Zombie movie in the seemingly anti-male video "I'm Queen" it quickly reminded me of the Australian singer from the Divinyls Christina Amphlett live performances (when they were punk) slopping lipstick all over her face. Le Butcherettes are a lot less pop and this breed of punk are not exactly touching themselves. The lyrics are equal part titillating as they are taunting. This is a female driven brain game though for sure. I know I'm going back but her look reminds of her voice (see Divinyls Roxy Music cover below) really too. This band is as edgy as they were in their early days. And luckily Teri has been empowered with more talent than Bikini Kill could ever had dreamed of with a nice share of literary references sprinkled about in the songs. One of my favorite songs on the record is "Dress Of" which is her just ranting and singing with just the drums wailing "take my dress off, take my fucking dress off- honey- honey o-o-o". Who says songs need other instruments? Right after that one she adds a keyboard to the mix with the drums on "Empty Dimes" that has a Spoon thing going on with no guitar to be found.

This music is about the uncomplicated deep honest parts. Fuzzed out keyboard sounds and simple rock akin to Greg Dulli(The Afghan Whigs) but the female version with a sultry delivery of which maple trees will just pore out their sweet nectar if she happened to walk by. When she gets vicious from the ladies side of bar like on a track like "Bang!" You can't help but think there is some Courtney Love angst of course (but not the fake crazy kind). But I think you need to look beyond the man killer because Teri is doing it from her soul and sure it's dark like most young artists. If she were locked in some dismally lit room her soul would blow it up with her writing & playing and escape. What may seem like random episodes of passion orchestrated directly at you are in fact a fuck you to Judy Blume. Look what you did Teri like on "Henry Don't Got Love" is great follow-up lead single to "I'm Queen" so fasten your pants. I can only imagine what the Henry video is going to be like!

Teresa Suaréz (Aka Teri Gender Bender) is US born to parent actors, moved to Mexico, started a band, had some differences with Jolene, moved permanently to LA and is now with her third drummer and a bass player. The coming long player via Rodriguez-Lopez Productions features all new songs since their debut EP Kiss & Kill (2008). All of the elements are in place for her success with some serious management in place most bands would kill to have behind them. It will be interesting to see how intensity builds-up. A whole load of shows are coming. With her in this round she has drummer Gabe Serbian and bassist Jonathan Hischke to help round out Le Butcherettes as a trio. Anyway, SIN SIN SIN is coming your way this May. Don't say I didn't warn you but in meantime if you get a chance check them out live and report in.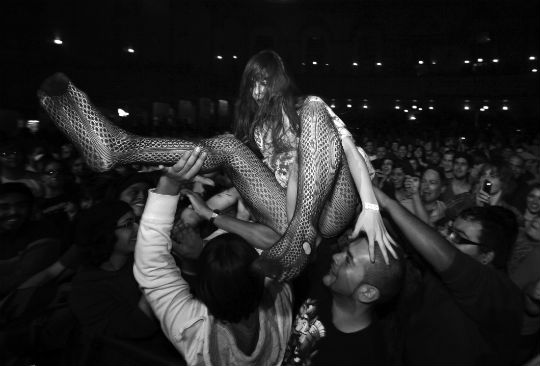 Get some:
New York MP3 Short and sweet ode to golden whiskey and your hate. Ah the old grungy romantic nyc. Track 2 on SIN SIN SIN.
Henry Don't Got Love MP3 She gives a shout out to Henry Miller on this #1 hit from SIN SIN SIN.
Kiss & Kill MP3 EP Title track
Sorta sounds like the naughty bits of:
Love Is The Drug MP3 Roxy Music music cover by Divinyls
66 MP3 by The Afghan Whigs from 1965.