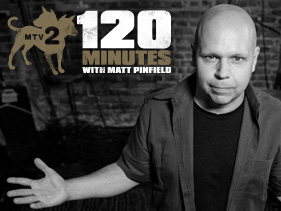 Ah man you haven't heard of Matt Pinfield? What's wrong with you? You must of been really stoned in the 90's or your're from Canada. The music industry in the world of DJs and VJs was pretty much catered and curated by him all the way from with his early College Radio days in the mid 80's to today. If there is a up and coming act Uncle Matty knows about them — no researcher tells him. He just listens and literally gives them a spin. One of those place was the old Melody Bar on French Street in New Brunswick, NJ. He was involved with music from his early days on 99.7 on WRSU as the youngest DJ ever on the air, to 106.3 WHTG Program Director down the Jersey Shore, and recently was on the now format changed RXP in NY. The Music Business is relentless indeed so what's one to do? Companies buy companies without though of any cultural repercussions.
"It's about going past the mainstream and showing you that there was other great music out there that you might not know. And always presented with passion, rather than hipster cynicism." – Uncle Matt nj.com
The bad news he's off the radio right now but still somehow the good news for the music industry is that he's back in a big way nationally and globally for that matter on MTV2 at 1-A-freaking-M in the morning but then streaming on the hive when-ever we want. What makes him a sonic alternative music godfather is he really gets so much respect from bands from Oasis to the Foo Fighters to all the up coming indies because they themselves found influence in the bands he picked out of the record bin and spun. It's not fake and it's not an act. He's a real music fan in the same way Jack Rabid is. He reads the liner notes, knows the record producers, seen the bands live countless times, knows their history and has interviewed just about everybody there is to know I think.
His presence on MTV2 is the one thing that is right today,even though NY radio is a total horrible fucking mess right now; is that Uncle Matt is now hosting 120 minutes again . Not the current faux-reality MTV bullshit but a monthly show where they show some pretty "edgy" music that's not your run of the mill auto-tuned boring-ass pop or whatever it is that is being played in clubs these days. The stress of it all and rewards have made his life a disastrous roller-coaster for sure dealing with his own demons through the years but in this debut episode he plays videos by bands we've been talking about recently here on the RS Blog like Joy Formidable and Black Angels and he also digs in the vault with something off The Bends where we see Thom Yourke as a punk. So tune-in the last Saturday of every month for 2 hours of rock history and check out some new stuff.

Alternative Playlist circa 80-90's for Junkies & Alcoholics:
Cigarettes & Alcohol MP3 by Oasis from Definitely Maybe (1994)
That's Entertainment MP3 Jam cover by The Wonder Stuff off Never Loved Elvis (1991)
Aneurysm MP3 Live Nirvana cover by Local H (1997)
Beetlebum MP3 by Blur s/t (1997)
I Am One MP3 by Smashing Pumpkins from Gish (1991)
Flavor MP3 by Jon Spencer Blues Explosion Live Tuscon
Related Junk:
The Sorry Kisses vs The Joy Formidable
ALBUM REVIEW: If only you were brain dead Black Angels
Liam Gallagher gives a rare extended interview to The Rock Show RXP
STORY: Matt Pinfield brings '120 Minutes' back to television by my pal Tris McCall on NJ.com
Read the retard comments on Brooklyn Vegan's 120 Minutes piece. The kids today have no respect for their shit music they take for granted.