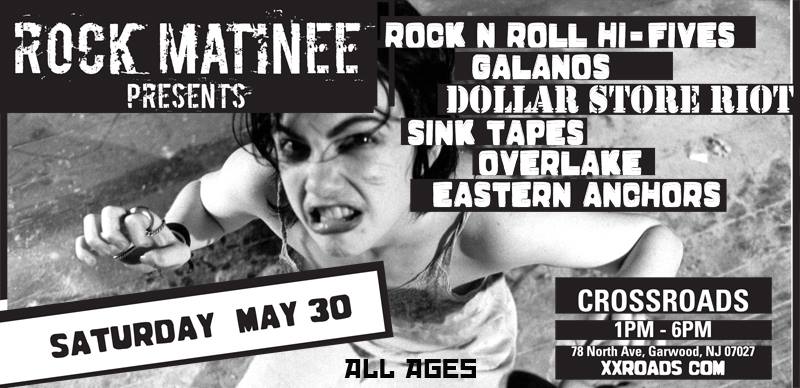 What is important to know about this awesome line-up is that it's ALL AGES. Put together to fill a desperate gap in music. ROCK MATINEE wants Dads & Moms, brothers, sisters, aunts and uncles to introduce the kids in their life to music other than what is on the damn Disney Channe! ALL KIDS UNDER 10yr old it's FREE admission. This organization wants different cities around NJ to host monthly events and help grow the ROCK MATINEE network. There is no hub yet but feel free to email headphonemusic @ gmail.com for advice.
Come see 6 kick ass bands at one kick ass NJ club at a matinee, all ages shows (yes, bring the kiddies)….$8.00 @ Door!
-Rock N Roll High Fives: 1:00 PM
-Galanos: 1:50 PM
-Dollar Store Riot: 2:40 PM
-Sink Tapes: 3:30 PM
-Overlake: 4:20 PM
-Eastern Anchors: 5:10 PM
ROCKNROLL HI-FIVES Joe Centano and family. Joe used to play in local indie rock heroes Plug Spark Sanjay. His family rocks.

the RocknRoll HiFives – "Good with the Bad" from Joe Centeno on Vimeo.
GALANOS is favorite band around review stalker camp and we're very psyched to be able to see them on Pyrrhic Victory Recordings.

DOLLAR STORE RIOT Maplewood, NJ noise rock.

SINK TAPES – Indie rock from the basements of New Brunswick, NJ

OVERLAKE – Break-out shoegaze music from New Jersey. Features the ever present Tom Barrett on Vocal and Guitar. On Killing Horse Records.

EASTERN ANCHORS Been rocking forever making melodic noise rock features members of Aviso'Hara on Viva! La Hara Records.
LIKE THIS PEOPLE!