Into Another-their 2015 EP Omens, picks up where 1995's Seemless left off (You can't even count 1996's unreleased album (??) Soul Control…diehard fans will understand).  These post NYHC kings continue to perfect their undefined melodic, thumping metallic craft.  Judging by the opener "Crossed', they could almost be criticized for being too good and just showing off but anyone wise would know better to say/think such silly things.
http://https://www.youtube.com/watch?v=queedcAvNSE
The Needy Sons– take Mike Gent from the Figgs and Bill Janovitz of Buffalo Tom/Crown Victoria and you have "just another band from Eastern Massachusetts" that happen to kick ass.  They have been releasing numerous singles in 2015 with promises of a full length LP in 2016.  Yay!
http://https://www.youtube.com/watch?v=beThU00nkQ0
Paper Streets – This Brooklyn via Jersey quartet released their addicting four song EP, Souvenirs, right smack in the beginning of 2015.  Their sound is best defined on their Facebook page as somewhere between Emo and Big Star.   I can't stop listening to the opening song, "Murmur."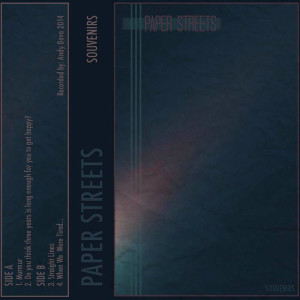 Swirlies –Blonder Tongue Audio Baton (1993)-Shoe gaze, alt-tuning, art noise done right that makes you second  guess Sonic Youth at times….expect for Kim….
http://https://www.youtube.com/watch?v=mtBrGMKzfJA
Velocity Girl-Their 1993 Sub Pop debut, Copacetic still stands and survives the test of time.  I was am also pleasantly reminded of my eternal indie boy crush on lead singer Sarah Shannon that never seems to dissipate.
http://https://www.youtube.com/watch?v=7Iw1-dJ_IyA
Scott Janovitz – only a complete Buffalo Tom groupie like me would know that front man Bill Janovitz comes from a long line of musically obsessed siblings.  His brother, Paul, fronted the incredible Cold Water Flat (RIP) back in the 90s.  Then you have another brother, Tom with Sodafrog.  You finally have yet another brother and musical sensation otherwise known as Scott who I first learned about though his first band, Dragstrip Courage.  Then came the Great Bandini.  Then he went on to create the oh so lovely melodic, blissful pop sounds of The Russians.  His 2015 three song Fall In EP continues the latter's infectious Elton Costello-ish 1960-70 rocks meets 1980 new wave.  Check It.
http://https://www.youtube.com/watch?v=jVu3Y0pUYwo
Walter Schreifels – just when you thought he couldn't pull any more bands together, Mr. Schreifels (of NYHC legends Gorilla Biscuits and Youth of Today to post NYHC hardcore legends Quicksand, Rival Schools, Walking Concert etc. etc. etc.) actually created two new bands in 2015.  Except for the killer teaser track from the hardcore supergroup, Vanishing Life, ("People Running"), he seems more focused on his other project, Dead Heavens as of late, pumping out singles drenched in 70's classic rock psychedelia.  Me dig it….singles sprouting up like a ear hair but far more enjoyable.  Album out soon.
http://https://www.youtube.com/watch?v=5zzOiG9ilwI
Johnny Marr – Check out the 2015 live record release, Adrenalin Baby, that finely collects tracks off Marr's two solo releases plus some killer Smith renditions that should have the Moz nervously shitting his briefs….Johnny fucking Marr baby!!
http://https://www.youtube.com/watch?v=PdGgesRqask
Travis – one of the most underrated Brit-pop band ever.  Yes Josh "Soandso" Thomas, We Were Promised Jetpacks, Frightened Rabbit and the Twilight Sad are all worthy contemporary Glasgow/Scottish bands, but Coldplay wouldn't suck like they do now and Oasis wouldn't have anyone to sue if it wasn't for this band that I recently re-discovered.  I still remember singing "Why Does It Always Rain On Me?"  incessantly in subway tunnels to my now lovely wife, Alyssa, back when I use to visit her/NYC.  The Man Who (1999), The Invisible Band (2001), 12 Memories (2003) and The Boy With No Name (2007) are all jam packed with great songs.  Testament to front man Fran Healy's beautiful singing voice can be best found on the track "When We Were Young off of Ode to J. Smith (2008).  Keane who?
http://https://www.youtube.com/watch?v=z3mXszRrMTY
Matthew Ryan – hat tip to my buddy Rob Galgano at All Over the Place Internet Radio for turning me on to this alt-country PA native and ex- Strays Don't Sleep.  Had the recent pleasure of catching a Ryan acoustic set opening up, for the Gaslight Anthem/Horrible Crowes front man, Brian Fallon (also  fan).  Give 2014 Boxers  a spin and if you don't like it, then it simply sucks to be you.    Good stuff in constant rotation in my life.
http://https://www.youtube.com/watch?v=Jy_UXpxtiCE
Brian Fallon – While NJ darlings, The Gaslight Anthem, has proven to be a great band, many would agree that they were sputtering, especially after 2014 highly ambitious and worthy Get Hurt, and wisely took a long hiatus so members can focus on other projects .  Fallon's largely anticipated solo record, Painkillers, is due out in March 2016 and if the single teasers is a litmus test for what we can expect, we should be some really happy campers.
http://https://www.youtube.com/watch?v=1OReOjoDaVQ
Bigg Butt– this New Brunswick trio produces and audacious dose of  garage, grungy "moron boogie punk" (not sure what that is but sure sounds like some shit to be reckon with).  They released a 4 song demo in April 2015 that is one part Nirvana bleachy and one part Mudhoney sludgy and deserves your attention.  Find their self-titled demo on Bandcamp…..
http://https://www.youtube.com/watch?v=ZaR1zvl1Uyk&feature=youtu.be
Galanos – Vacation Cannons (2015) – who knew an upstate NY town like Kingston could give birth to "silver tongued devils?"   Yup, neither did I.  Fueled in his basement studio, Gregory Jaw, and the rest of the gang  (including Joe Pugsley of The 65's on the bass) simultaneously go for the jugular and balls, producing nine songs of intriguing dark, fuzzed out surf rock.  For those fans of the Cramps, Lords of the New Church and Nick Cave & The Bad Seeds take note, this is your cup of tea.
http://https://www.youtube.com/watch?v=ZmcXyF-ikC8
Overlake – Travelogue/Winter Why EP (2015) – another dose of toe-tapping, knee-bouncing, head-bopping piece of shoe gaze drenched perfection from these Jersey City gods, not missing a beat from their 2014 full LP release, Sighs.  Check it!
http://https://www.youtube.com/watch?v=uJ1DhXngY0A
C.R. Gennone– Going Vertical (2015) A primary founder of such Jersey bands as Tribal Days and Winnebago, C.R. Gennone released this 4 song EP back in December 2015 that has caught my attention in a major way.  An eclectic collection of jangly indie pop that's steering wheel tapping delicious  and gas pedal throbbing.  Check out one of my favorite tracks off the release also found on Bandcamp where you will find a plethora of EP releases in 2015.
http://https://www.youtube.com/watch?v=2KmByMv6PfI
Snapcase – the co-kings (Zero Tolerance is the other…RIP!) of the Buffalo hardcore scene broke up in 2005, but have periodically played anniversary shows in past and festival shows as of late, their 25th later this month on their home turf.  A band that always sought to raise the bar on the genre, they never seem to disappoint.
http://https://www.youtube.com/watch?v=Qk1KFeBDRyE
The 65's–New Fun Hell (2015) – This new 3 song EP from this Rutherford, NJ band picks up right where 2013's "I Got You" EP left off and that is why it is in heavy rotation in my life.  "Punk -n- Roll" at its finest, the 65's have the guts and grit to continually make some kick butt music.
http://https://www.youtube.com/watch?v=UXi6dt7UhuM&feature=youtu.be
http:/https://www.youtube.com/watch?v=UXi6dt7UhuM&feature=youtu.be/
The High – Somewhere Soon (1990) – first heard this record back in the 1990s when my friends and I were eating, sleeping and wearing the "Madchester" scene to the hilt.  They definitely had the scene sound down, It also doesn't hurt to have a cool ass name and a guitarist that was an original member of the legendary Stone Roses.  The tape went lost for years, then I stumbled upon a used copy in a 5th Ave, Brooklyn record shop a few years ago.  Check out the opening track, "Box Set Go" below.  100% Britpop perfection.
http://https://www.youtube.com/watch?v=Xd_RRrEqKdA
Scott Weiland (RIP) – I've been semi-closeted Stone Temple Pilots fan for years (their killer third album, Tiny Gifts…Songs from the Vatican Gift Shop…."perfectly blends punk and glam" says the Pumpkin's Corgan and I agree) and been exploring other Weiland fronted acts long before his [un]timely demise.  Despite some unevenness, his Walkabouts boasts some decent tunes and I finally slowed down to actually listened to Velvet Revolver (been debating Axl vs. Scott ever since doing so).  All good shit.
http://https://www.youtube.com/watch?v=vVD0JVnsXXw
Lighting Seeds-"Pure" – love this song and thank the God's I remembered to start listening to this gem again…
http:/https://www.youtube.com/watch?v=6myNbk15sMs/
R.E.M.– It seemed like over the  years, many R.E.M. fans just woke up one day simply "over" the band, including me.  My own interest started waning around the release of New Adventures In Hi-Fi (1996).  MTV favs, they just got too big and too commercial too fast.  Kind of bizarre when they were once kings of the alt-music mountain that could do no wrong.  I remember declaring to my high school peers who saw my cassette copies of Under A Blood Red Sky and Murmur mysteriously "stacked and glued" to my top locker shelf (most likely due to a Coke spill), that both U2 and R.E.M. will be the most famous bands in the universe one day (and voila).  Personally, I think the combination of Stipe's smug onstage political rants and the "Shiny Happy People" video (sans the cute B-52's brunette dancing chick) commenced their downward slide.  Fast forward to 2015, and I found myself rediscovering the band and realizing they are probably one of the best American bands ever.  Sure they released a lot of easily overlooked material since Hi-Fi, but buried deep are a number of gems.  Just check out 2008's Accelerate.  Next to"Begin the Begin" off one of my favorite releases, Life's Rich Pageant (1986), the song "Living Well is the Best Revenge" is arguably one of the best songs they ever wrote and "Horse to Water" just knocks it out of the park for me like "Talk About the Passion", "Seven Chinese Brothers" or even "Disturbance at the Heron House." I gravitate towards 2009's Live at the Olympia that compiles great songs old and new.  I forgive you Michael ,just bite your tongue…xo