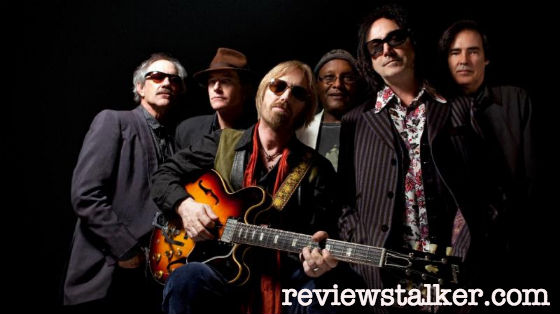 ALBUM REVIEW: What has gotten into Tom Petty that he feels a need to rock so fucking hard at this point?
 Every now and again a very great and classic singer/songwriter/rock and roll type artist, who are believed to have more than earned the right to be "past their prime" and rest on their laurels, just for no apparent reason, up and make one of their greatest albums ever. My favorite examples of this are Dylan's "Time Out Of Mind", Bowie's "Heathen" (well, maybe not one of his BEST but that's a high fuckin' bar) and of course the one that started it all; Neil Young's "Ragged Glory". Tom Petty and the Heartbreakers' "Hypnotic Eye" is one of THOSE albums.
  I suspect that the Petty camp has been appreciating the strengths of the post-modern, lo-fi, soulful, semi-ironic primitive blues-ness of the Black Keys. At least that's the first thought I had listening to the first tune, "American Dream Plan B".
  The sound is uncluttered and in your face with a "singing soulfully into a tin can" style vocal and a fat and rude low frequency distorted riff over a straight backbeat. It sounds like you're actually listening to a guy in a room playing a drum set. Then, all of a sudden, the chorus comes and it is EXTREMELY Tom Petty-like:. "I've got a dream I'm gonna fight 'til I get it, I've got a dream I'm gonna fight 'til I get it RIGHT". Somehow what he's singing sounds both youthfully optimistic and worldweary-wise. It's partly because of the music and partly because of the words, just like all great songwriting. And then Mike Campbell throws a crude, yet impeccably melodic distorted guitar riff in there, evoking (to this listener, at least) "Satisfaction" and Them's "I Can Only Give You Everything"
Them – I can only give you everything

  But the most remarkable event happens after the second chorus: the band launches into a beautiful "acoustic-strumming-with-slide" George Harrison tribute lasting less then half a minute and then Mike Campbell rips into a manic guitar solo that sounds more or less exactly like Dave Davie's on the Kinks "You Really Got Me"
the kinks- you really got me

Post-modern cut and paste playful cultural appropriationism reaches its zenith in the second song "Fault Lines", which is a fucking rhumba!  But when the first crashing chord introduces the verse vocal, you instantly remember you're listening to the new Tom Petty album. And the hook, line and SINKER: "I've got a few of my own fault lines running under my life" is just so classic it's surprising no one ever came up with it already. "Red River" in the beginning reminds me of Aerosmith and the Stooges (in it's use of the awesome one-note piano over heavy driving rock)
 So let's talk about the players: I'd like to start by first recognizing Benmont Tench as team player supreme. This album is more guitar driven than any Tom Petty album (at least any I can think of right now) and the keyboards are used here in a way similar to bands that don't have a specifically designated keyboard player in them. Like the early Beatles or Kiss on Destroyer or early Aerosmith or Ozzy, etc. On one song ( "Red River") they go so far as to utilize piano like the Stooges used to (wait a second; is SCOTT THURSTON on this album? You bet your ass he is! So that's the guy doubling Mike Campbell's badass riffs in "Fault Lines") My point is you only hear keyboard at certain times and even then it tends to be near subliminal. As for Ron Blair, everyone always wished he could come back to the band and he sounds beautiful on this album. His tone is McCartneyesque. I think his playing is too, except he never plays in a way that draws attention to itself, which McCartney had no way of NOT doing. But like in 60s music, this is an album where the bass lives in it's own sonic space and is separate from the guitars. It is FAT and fun and sexy like bass is supposed to be.
 "Forgotten Man" appropriates the Bo Diddley beat to perfect effect. The song is just classic Tom Petty. Mike Campbell's solo sounds like Clapton on the Bluesbreakers (best possible way to sound).
 "Sins Of My Youth" is a nice bossanova, sort of a callback to the earlier rhumba and just a little hipsterish. Beautiful tremolo guitars on this one. Most Steely Dan sounding of the Tom Petty catalogue thus far.  Not that it sounds very much like Steely Dan…
 Now here's another thing to always remember: Tom Petty is a cool stoner dude and that's why he has a laid back funky song called "U Get Me High" which swaggers in with stabbing guitars and some big round fuzzy swinging bass. Totally lives up to the title.  Do you think it's got a good guitar solo? Mike Campbell, one of the greatest ever, on this solo, sounds like he may have heard Jack White at some point, and in a GOOD way. Show 'em how it's done, Daddy!  And then there's some some golden-era of Clapton jewelry in the outro. Have I mentioned yet that this is really MIKE CAMPBELL'S album? The man is a national treasure.
There's a tradition of the second to last song on a good album being the weak spot and they do a perfect job of it here. A blues called "Burnt Out Town" which is a fairly listenable showcase for the piano playing of Benmont Tench and the harmonica of Scott Thurston. I'm fine with it.
 The last song is called "Shadow People" and it's sort of a Lennon "Cold Turkey" format song with bluesy double stops on the guitar punctuating every line of the verse. Then in the chorus the guitar plays a riff that's really sweet and sad and reminds me of Blue Oyster Cult's "I'm Burning For You", which is a compliment. And the guitar solo is just unbelievably great. Mike Campbell has never sounded so aggressive and balls-out rock.
So in closing, Mike Campbell is God, but so is Scott Thurston and here's your proof:
IGGY POP – NEW VALUES

Ok give this a like facehookers and leave a comment here.