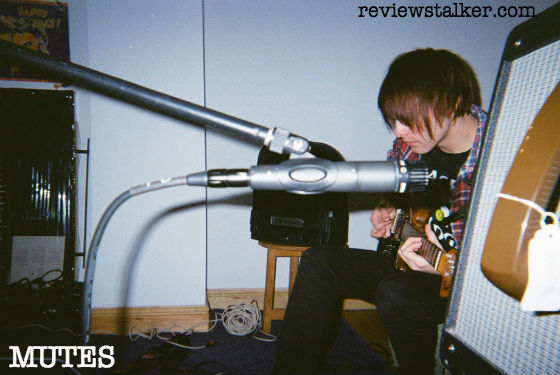 Here's your weekly dose of excellent FREE singles and MP3s from around the globe of indie. Some of them are even exclusively found here. We highly suggest you fan them, then support likes of The Van Doos, Milan Jay, Stagnant Pools, Mutes or The Van Doos when they do their thing live. Dudes in bands need fans and if you happen to be a hot chick or handsome bloke even better. Tell them Review Stalker sent you. Because we too like it when bros and gals buy us beers at our local pub. Makes this all worth while as we really do try and filter everything we get to bubble nothing but the best. Enjoy!
Mutes – We love our shoegazer around here and here's something to crank on the autobahn. This comes out in May on One Note Forever. It's a washed out track made of faded dreams drenched in sweet delicious reverb. This should actually make you stand straight-up so you can get a better listen right into the speakers and turn this up. facebook them and shit and us to while you're fucking at it.
RIYL: MBV, MBV, MBV
DOWNLOAD: M.P.D.G MP3 by Mutes fromt their coming EP
Stagnant Pools – We dug these noisters when we first discovered them last year and we're still fans. they have a another record coming out June 10th called Geist on Polyvinyl Records. Very sonic youth oriented in all the right ways.
RIYL: Jesus and Marychain
Milan Jay – OK the best way to describe this dirty bass, rap music from Ireland if you took "Gratitude" by the Beasties and mashed it up with KFDM or ministry with some white dudes rapping on it. It's pretty good. They call themselves a electro band but we think it's much better than most EDM shit. Here is their track called "Get Ghost" – which you can get on bandcamp and throw them a couple euros.

RIYL: HIP HOP, WARTIME (Andrew Weis, Sim Cain, Rollins)
The Van Doos – Yes, bandwagonesque riff rock that is very very much English in all the right ways. Big loud and crunchy snares hits tilts this to some early oasis or radiohead(pablo honey). Very catchy taster that is going to be on their debut album Fingertips. Highly recommend you download this baby we're looking forward to the rest already. Their video is pretty cool too and we would be pretty deft if we didn't point out the artwork looks exactly like our web background skin. Get with the program facehookers.

DOWNLOAD: Airborne MP3 by The Van Doos
Distortion Girls – Evol era (yet a another sonic youth reference) space psyche slow jam. Female led drone vocals that is like slow fucking that is super errie with the organ doing it's thing in the background. It's sexy in a very gothic kind of way. If you speed it up to 45 might seem weird. Like them you facehookers. They now have exactly 2 people talking about them.

RELATED:
More free MP3's
Last week's Singles & Bands to Watch by: The Great American Novel, Afghan Whigs, wyd:syd & Otherkin