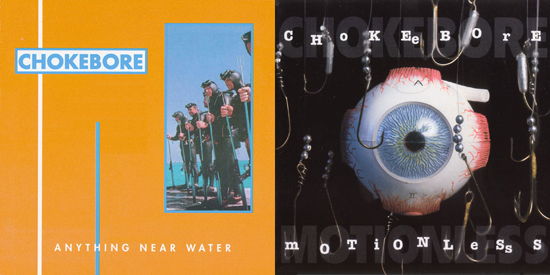 So it's CMJ and we honestly don't give a flying fuck. Fans of real awesome sadcore as was coined back-in-the-day and was brewed when the 90's were a confusing time in rock history may have missed Chokebore all together in the same way. This band originated from Hawaii and then migrated to Los Angeles and was soon championed by Tom Hazelmeyer on Amphetamine Reptile Records for a bunch of releases. Now the French Label Vicious Circle is re-releasing two must have albums on vinyl because they too know something about real fucking music and don't need some confusing festival to tell them so. Their albums Motionless (1993) and Anything Near Water(1996) came out right when Nirvana were bigger than the sum of their parts and dwarfed any body else trying to make a dent. These guys made records we looked forward too and were cut from the same tree of bands like Melvins and Jesus Lizard that got to open for them. We really dug their live performances a whole hell of a lot too. Which we don't see many bands like this any more playing guitars like they mean it. It's all these internet band bores. On stage the two brothers Kroll had  a burst of musical energy led by the rock crooning being bellowed by singer/guitarists Troy Balthazar and all together they came across like a exploding tsunami made up of passion and bong resin all up in your ear holes.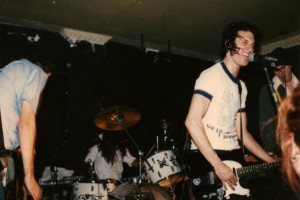 Anything Near Water and Motionless are two bongeriphic albums. We said a few times in our old fanzines that we were once appalled by the vocal delivery on one 7″ but quickly noticed it's the sum of this very organic musical thing we realized there was much depth once we got to get into it. Anything Near Water is super moody and what really drew us in about them.  I don't think bands like this get made by any one entity, especially our then narrow view of the world, with a then readership of like 100 people. That number has grown over time now in the 10's of thousands but that is not important. The real important part which this is one band we would pay to go see again is Chokebore. Don't take our word for it. Let your ears do the listening because like we were saying. Not a brooklyn band comes even close to this music but if you are in Europe in November you have a chance to check them out. The band recently went back "online" after a fairly long hiatus and on the very short list of bands we would like to see back in action this is one of them.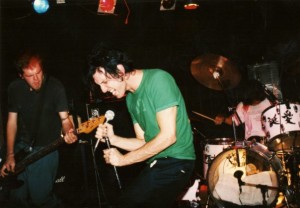 BUY Motionless or Anything Near Water.
CHokeBore In Concert:
07/11 KARLSRUHE (G) Jubez
08/11 BIELEFELD (G) Forum
09/11 LE LOCLE (CH) Lux
10/11 MILANO (IT) Lofi Club
11/11 BOLOGNA (IT) Freakout Club
12/11 YVERDON (CH) Amalgame (+ Shannon Wright)
13/11 ZURICH (CH) Güterschuppenwollishofen
14/11 FEYZIN (LYON) (69) Épicerie Moderne (+ Olivier Depardon)
15/11 TOULOUSE (31) Connexion Café
16/11 SAINT-JEAN-DE-VÉDAS (MONTPELLIER) (34) Victoire 2
18/11 PARIS (75) Trabendo
19/11 RENNES (35) Antipode
21/11 BORDEAUX (33) iBoat
22/11 LIMOGES (87) La Fourmi
23/11 MONTBÉLIARD (25) Moloco (Festival Génériq)
24/11 KORTRIJK (BE) De Kreun
25/11 BRUXELLES (BE) Rotonde (Botanique)
04/12 HAMBURG (G) Hafenklang
05/12 LEIPZIG (G) Werk 2
06/12 DRESDEN (G) Beatpol
07/12 BERLIN (G) Privatclub
08/12 PRAGUE (CZ) Lucerna Music Bar (+ Girls Against Boys)