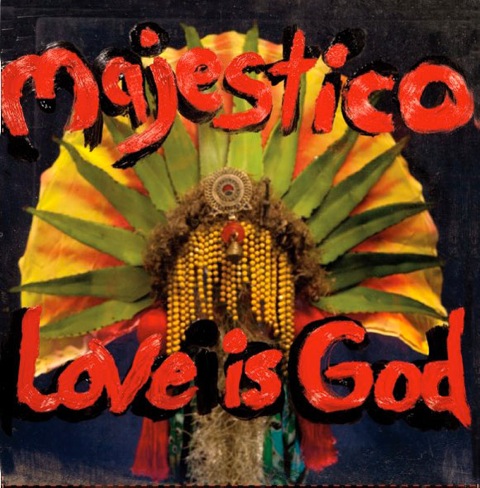 MUSIC REVIEW: Do you like Lux Interior inspired garage psycho-billy? We think Majestico has got some threads a little loose in this Rolling Stones inspired meets pico de gallo wax on this new 7″ EP called Love is God. It's not a Mardi Gras band from the looks of it or a purest roots rock band but it is out today on Jeffery Drag Records. Is this "folk 'n' roll"? We think there is more of a creepy roll here that is just getting the weed going a bit. This is the bearded skunky variety perhaps with some shiny specs of brilliance. Music for garage rock fans who like a show with their acid or acid in their blues show. This stuff will last like trails and you will want to come back for the weird. If anything try and figure out how they convinced a Mayan to appear in their video. Give it a whirl and get away from that lame electronic shit. This is a real rock show.
Video:

RIYL – Sounds like these sound man:
I Was A Teenage Werewolf MP3 by The Cramps from Songs The Lord Taught Us (1980)
Oh Lord MP3 by The Brian Jonestown Massacre from Take It From The Man! (1996)
Radiation Blues MP3 by Dax Riggs from We Sing of Only Blood Or Love (2007)
Related Articles:
Blues inspired Singles with The Owsley Brothers
Album Review: Deer Tick Vs. a recovering America in Divine Providence
Shit ton of blues inspired songs: What would Keith Richards do?