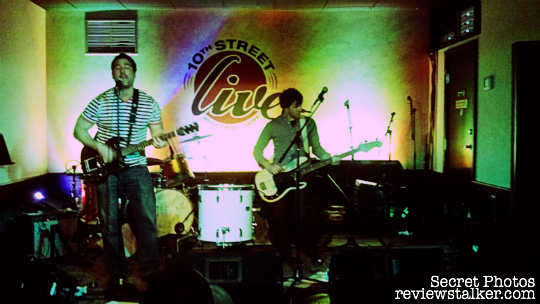 So the other night I had the honor of playing a solo show as The Slow Wire with a few bands I really dug Secret Photos, Bodega Satellite as well this other local swamp rock band called Traveling in Stereo. In all a awesome night. Originally the Eastern Anchors we're supposed to play but either way I'm sure we'll hook up soon enough as the album is the EA complete. There will always be more shows. What's actually exciting to me is this new 10th Street live venue is actually book some exciting shit. The rumour that night also is that my pal Andy Diamond may be booking some music The Crossroads in Garwood in the near future (not confirmed yet) but we shall see. I've never had two rock clubs so close to since I move out of New Brunswick a decade ago.

Super energetic punk trio with some chops and riffage. Hope you dig them. If a band can sound good live on video it's not a sound mans trick. No mixing in the world can help. Dig them.

Here's another song by Secret Photos called jack and the pollock MP3 from their record Luv2Giv
I like the way they switch electronic embryo or power trio. Cool shit.
More videos on the Review Stalker Music Blog channel
Some of this sounds like:
Slow Motion MP3 by Ultravox
Eels MP3 by Built to Spill from The Electronic Anthology Project
You Got It (Keep It Outta My Face) MP3 by Mudhoney from Super Fuzz Big Muff
Think About Carbs MP3 by Hot Snakes from Audit In Progress
Champs MP3 by Wire from Pink Flag (1977)