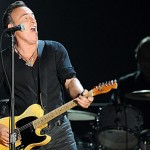 EDITORIAL: Grammys, 2012. Seriously, there was once a time when the Music Industry would spend millions of dollars developing bands and performers. At some point in time ( they blame the internet piracy thing) they sort of hammered away at people's tastes to the point where they don't have any. So what are the Grammys for? Interesting fact there was once 109 categories and now there are 78! Is the music industry shrinking although it still thinks in big business terms and not how they used to develop song writers, building their audience and developing the performers — you the know — the art where good people like producers and engineers bring out the best. Now it's about how fast they can exploit something and cheaply to make the business needs.
The only reason I watched the Grammys this years was to see what twitters reaction to Grammys was going to be – actually can't imagine taking in other events like this or politics any other way. Brings whole new meaning to the silent majority. On the one hand it's a award show but it sure as hell didn't feel like they gave out more than 8 awards the whole 3 1/2 hour long broadcast. The Foo Fighters (5 Grammys), Adele (6 Grammys) and [insert skinny white chics name here ] sort of took them all home with them. They still allow lip syncing for "Artist" performances but then suddenly when you get a performance out of The Foo's or Beach Boys backed by Maroon 5 I think a sudden appreciation of live talent may be taking a turn for the better. Well at least we hope. Big business knows what works so they work desperately to make sure none of the pop divas are perceived as having big asses, sing flat or having drug problems (RIP Whitney I think god meant the show not you) but anyway. The point is perception is everything.
There are always going to be manufactured artists and those who think a meat dress is unique. It's easy but does it take talent? Remember when the abomination known as the Black Eyed Peas made a mockery of Half time shows? We all appreciated the dress malfunction. Autotune is starting to not be impressive and people really resent it never mind the horrible lip syncing. Who the hell wants to see Chris Brown dance? I know one demographic who does not mind -mostly. These are one trick ponies that like Grunge/Nirvana sound alike bands the Industry has seemingly bled the "genre" and spit it out so many times but agree they could use some new categories as suggested by Dave Grohl and Butch Vig that are little more nostalgic shall we say like "Best Garage Record" or "Best old-school album". Now there is an idea!
About your new band:
With best new artist award going to Bon Iver – I still could not hum you a song although I could for last years winner. The deciders may start to develop bands we already love thanks to the internet and MP3 blogs like this one acting as their scouts. So many amazing bands in the past like the Rolling Stones, Led Zeppelin never played the Grammys even though they were dominating ticket sales in their hey-day. It's a strange phenomemom. Bruce opening this years show was a good start to keeping to basics and what works. A magical moment where we all seriously appreciated because that is real talent to sing and write you own songs. What a concept! Don't get me wrong getting a Grammy is no small feat but it's cool when you feel somebody has earned it.
Rope MP3 by Foo Fighters this from the deluxe version does not sound analog. oh the irony from Wasting Light [Buy It!]
Smells Like Teen Spirit MP3 by Nirvana Live in Amsterdam 11.25.91
Rhinestone Cowboy MP3 by Glen Campbell [Buy Some]
Wouldn't It Be Nice (Stereo Mix) MP3 by The Beach Boys (1966)
Bluebird MP3 by Bonnie Raitt (1971)
Who Is It (Bjîrk cover) MP3 By Bon Iver Live in DC [Buy For Emma, forever Ago]
Skinny Love MP3 By Bon Iver [Get the whole set ]