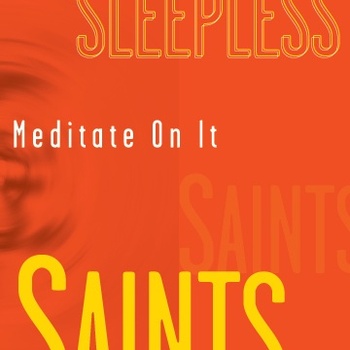 ALBUM REVIEW: Meditate On It is the debut by Sleepless Saints is a record done with lots of gentleman like swagger. A tip of the hat to the guitar production and orchestration that drive this baby home. With great Rock-n-roll voice all wrapped up like Mr. Tom Petty or Mr Nick Lowe respectively. Yeah, we know it's saying a lot if you like Oasis type reverb rock Singer/Songwriters then Sir, Mr. Christian Edwards delivers the well spun hooks. Lots of tasty vocal layers packaged in this album so say you. All the songs really show a sense of song without muddying up the heart of the matter. In particular on tracks like "Begining to Believe" there is some tasty slide guitar hands here that will buzz your ears as if you were saying "ohm" to yourself. Trust us if we thought this sucked we would tell you but we're here to tell you this is a good sounding album all the way through with a pop sense that is delivered frankly and honestly. And if we told you Edwards actually has a meditation room in his house would you believe us?
Sat March 11th at The Saint
Here's two from the record:
For the Last time MP3
Joanne MP3
Now get the rest because it's free.
Sounds like:
That's Entertainment (Cover) MP3 by The Wonder Stuff from Never Loved Elvis
A New Shore MP3 By Steven Page from Page One (2010)
Beetlebum MP3 by Blur
In the Dreamlife You Need a Rubber Soul MP3 by The Clean from Mister Pop (2010)
For What I've Done MP3 by Doug Gillard from Call From Restricted (2008)