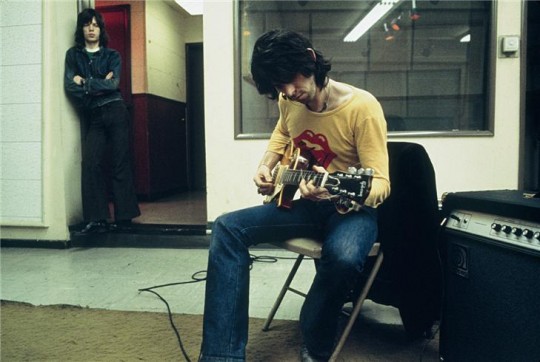 So what the Blues got to do with it? I've been watching Treme on the cable and reading Keith Richard's autobiography and getting back into the roots of american rocknroll and funk for that matter for the past couples year and I realize I don't know shit. So much music so little time to live and breath it like so many before. Modern music as we know it would not exist if it's weren't for the blues. Took me a long to realize this. The army gave folks in the south band instruments and they made music using trombones! Keith obsessed on sounding like Elmore James, Chuck Berry and worked to get a sound out of whatever was at his disposal making him a blueman. Then eventually because he was in The Rolling Stones he just got to jam with whoever he wanted to and adopted tuning his 6 stringer to a five string guitar tuning the 5-1 to G, D, G, B, D to get his sound and write some of the most awesome blues hybrid guitar songs ever written. Not going to deep dive at all the way but instead celebrate just some of the hybrids. I'm sure there are hundreds of examples and I'm not even sure my ear could pick-up on any of them unless you explained; but if you ever wondered why a cover band was not just pulling off a Stones song it's not because their feel was off or tone but maybe because the tuning was wrong or they just never got high. Other great alt blues songs have a topicality and delivery vibe that you either get or you don't. When you get a chance to read Keith's autobiography LIFE you're going to be pretty impressed by his ability to stay in the zone and function in his heyday. So when you're up against the wall just ask yourself what would Keef do? Then it ride all night long till the record skips and you're passed out.
Mississippi Breaks MP3 by Mule – features the guitar playing of P.W. Long. this band came together after Laughing Hyenas would practice with Kevin Munro and Jim Kimball's badass sidefaced drumming.
The Shakin' Fears MP3 by P.W. Long's solo release We didn't see you on Sunday? is probably as close to a Mule song you'd ever get so just chug the Jack Daniels and everything will be alright.
Nothin' Man MP3 by R.L. Burnside from Wish I Was In Heaven Sitting Down
Money Rock'N'Roll MP3 by The Jon Spencer Blues Explosion
Tumblin' Dice MP3 by Johnny Copeland from the All Blues'd Up compilation which features songs by The Stones.
Leaving Trunk MP3 by Taj Mahal. Great harmonica on this track. Very straight forward blues progression.
Sweet Brown Sugar MP3 by Robert Belfour from Pushin My Luck. This sounds like old blues done right today.
Drinking Muddy Water MP3 by the North Mississippi Allstars from Shake Hands With Shorty. This is a very good contemporary blues band.
Dimples MP3 by John Lee Hooker On Vee-Jay 1955-1958 recordings.
Hustled Down In Texas MP3 by Johnny Winter from Second Winter (1969)
Everybody Needs Somebody to Love MP3 from the movie soundtrack – The Blues Brothers. Probably my first introduction to the blues and what a way to have it delivered. Still one of my all time favorite movies too. Covered by Wilson Pickett, The Stones and originally recorded by Solomon Burke (1964). Was also covered by Gerry Garcia band and 13th Floor Elevators.
All Down The Line MP3 by The Rolling Stones from Rocks Off!