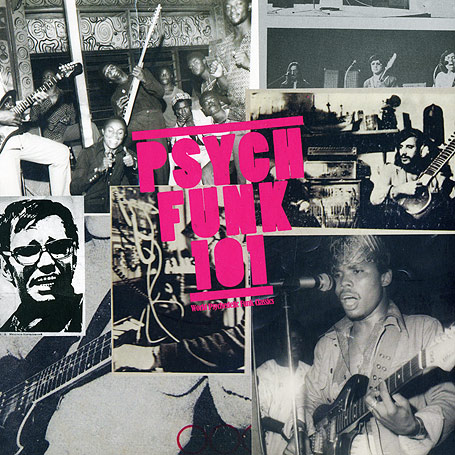 I'll admit I am a late comer to the Psychedelic Funk genre and i meander into stuff that is little more drum and bass but currently I've been mindlessly picking up things that look interesting. Here's a few tracks from various compilations that mix funkadelic beats and guitars. What makes the use of wahs, funky beats and bass on this material cool is that at times it seems almost interpretive what you might hear on old 80's cop-show like CHIPS maybe or black-exploitation movie. Imagine what James Brown would like sound like if somebody just explained the music to you. These are mostly just some good eclectic tracks you'd never hear unless you found said compilations. Of course unless you're a record collector or this post finds you. This is only the tip of proverbial iceberg whatever if it moves your feet it's doing it's business.
Ghabileh-ye Lily MP3 by this Persian group called Mehrpooya from Psych Funk 101 – This is the epitome of fuzzy deep cuts with Artists from very exotic countries like Turkey and Iran! [BUY]
Good Old Funky Music MP3 by The Meters s/t and previously unissued
Shut 'Em Down MP3 by Gil Scott-Heron & Brian Jackson from Oxford American 11th Edition Southern Music 2009 compilation. Super cool that through a relative the publisher sent the magazine to me for their music issue which came with this CD.
22 Mothership Connection (Star Child) MP3 from School House funk series which Compiled by DJ Shadow. Which is basically all these one-off records that highschools would produce as a "record" of the schools band performance. Some really amazing moments on here. [Buy]
12 Inch Rims MP3 by Amsterdam's Lefties Soul Connection from Skimming The Skum (2007). This could have been recorded in the 1970's and you would be none the wiser. Awesome freaky dutch shit. [Buy]
What It Is Parts 1&2 MP3 this track is by the artist known as Apollis from the super awesome Bay Area funk I compilation on ubiquity records. Was on my Music fan Holiday gift ideas post.